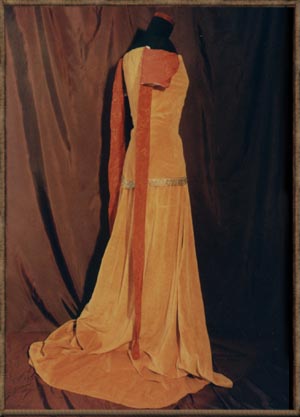 HISTORICAL COSTUMES
The first step is sending us the request for proposal, that should determine:


1. accuracy of reconstruction


2. dating


3. social class of the dress


4. region of Europe from which a prototype is supposed to come.

Ad. 1. Accuracy of reconstruction:

reconstruction of clothes - these clothes are multi layer, reconstructed in harmony with the historic cut. Conformity of fabrics, the design and additions to the historic prototype is necessary.
Recent made reconstructions are presented in "Photo library" section.
costumes for teams of the music and the ancient dance - these are preserving the full style and the design of the given epoch, but simplified clothes or about the number made smaller of elements. They can have the standard or manual trimming. Here also a certain freedom is prevailing in the selection of fabrics and additions.
Dresses are being recommended for drama or dance groups, which aren't entertaining the ancient culture with regenerating in a wide range, and require the striking, starting to speak to imagination of spectators stage costume.

stylised dresses - these are contemporary clothes lightly establishing with the silhouette or characteristic elements to the ancient dress. They're made with contemporary cut and the standard machine trimming. They can refer to the concrete epoch or save stamps of the dress widely "stylish".
For women they are single or two partial dresses, for men shirts or sweatshirts.
Such dresses are intended for persons dealing with exclusively an ancient music or the baroque from which they don't require of full costume.
They are also being recommended for the service of objects with historic character who want to underline the "climate" of these places.
In the reply you will get the offer containing the preliminary cost estimate, the possible completions date, eventually proposal of projects.
After making a down payment (c 20%) we are setting the completion date aside. Terms are being set aside according to orders of applications. The advance payment isn't returnable in case of withdrawing the order by the customer.
In the set time one should get in touch with us personally in order to take measurements. Fitted dresses require two or three fittings, to which the customer is obliged oneself in the time arranged the meeting. Failing to appear for fitting results in delaying the date of the receipt.
Sending to us measurements is possible according to sent table and finishing the costume without fittings, then the tune will be performed within an accuracy of given measurements. Not all dresses can be made in this way.
Receipt of the order:
- personally, at the payment in-house in business premises, with cash
- with courier parcel, after transferring money. A recipient is incurring postage.